I would like to introduce you to the most delicious salsa in the world!  I know some of you are more fond of red salsas, but maybe you have never honestly given green a chance…or maybe green just seems forboding for the same reason…GREEN!  Well, here is a recipe I would like you to try.  I have tried different green salsa recipes, and have never encountered this one's rival.  This recipe was given to me by a Mexican friend, and is one of those that never was "written down."  In fact, I asked for the recipe, and she kind of chuckled and said, no, there is no "recipe."  So I asked her to tell me how to make it, and she did.  Here is my attempt to record it onto paper!
Here are the stars of my show!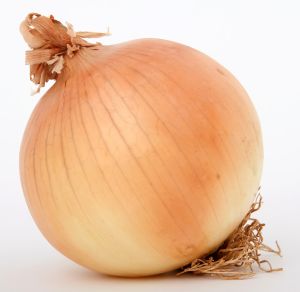 Ingredients:
5-6 medium green tomatillos (Medium as in 2-3″ diameter)
1/4 of small onion…just sliced off the onion (Maybe 2-3 Tablespoons if chopped)
1-2 serrano pepper (to your taste and tolerance!!!)
1 clove of garlic
Salt (In the palm of your hand, about the size of a quarter…maybe one teaspoon or so)
5-6 stems of cilantro (more if you want…to taste)
1 avocado
Boil water in a medium pot.  Add the green tomatillos, onion, serrano peppers, garlic; leave until the tomatillos turn from bright green to yellowish.  Place in cool water to cool and prevent further cooking.  When cool, place in blender.  (You probably want to start with half the serrano, and add the other half and other pepper depending on how hot you want it.  Every pepper is different…some are very hot, others not hot at all.)  Add salt, cilantro, and a handful of water (just what stays in your hand from the sink to the blender!!!…just to allow liquid so it will blend).  Taste it when well blended for flavor and hotness.  Add more of the serrano if desired, and blend again.  Pour into bowl.  Open avocado by slicing in half around the seed.  Cut one half while still in skin…lengthwise and cross wise.  Then slice the cubes out of the skin (turning the skin inside out might work!) and into the bowl.  Add the other half of the avocado if you want.  Stirr it around into the green salsa.  Enjoy the best salsa in the world!!!